Keep Corners Damage Free!
Recommended for parking garages and warehouses.
Heavy-duty, high-impact thick molded rubber.
Yellow reflective stripes increase visibility.
Securely installs with 6 lag bolts.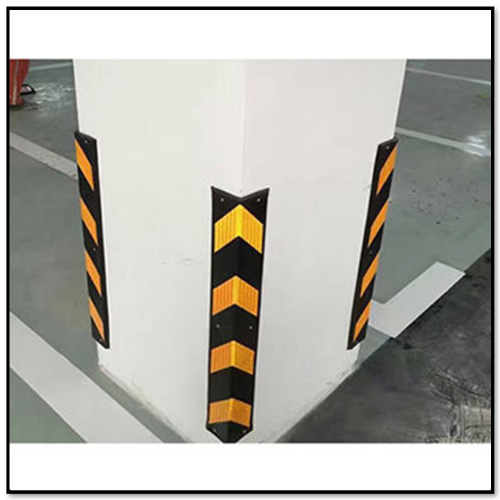 Whenever a car or van hits or rubs against the corner of a pillar in a parking lot, a rupture is caused that can go from a minor cracking to a piece of the column that translates into construction and maintenance costs. The number of cars and columns that a large parking lot can have can end up being an endless constant.
To avoid the previously mentioned problem is that we manufacture the rubber corners, which are installed in each corner of each column to the height range where a vehicle can be stuck, and these cushion the impacts of cars and other vehicles, thus preventing the pillars suffer damage.
| SKU | Description | Length | Width | Thickness | Weight |
| --- | --- | --- | --- | --- | --- |
| RC-7001 | Rubber Corner Guard | 31.5″ | 5″ | 0.32″ | 4.00 lbs |
In addition, the rubber corners are equipped with reflective yellow stripes that give them great visibility by reflecting the light coming from vehicles and other nearby sources to stay visible in front of the vehicles and make it easier for drivers to see them.
The column protectors are very easy to install since the installation holes are already factory made and with the help of the screws with expansion bolt for installation, this becomes a quick and easy task.
Meet our rubber corners, call one of our Sales Representatives and ask them to present our Column Protectors, a visit to our distribution center will be enough for you to see them live and ensure their excellent quality in materials and manufacturing.
Rubber corner guards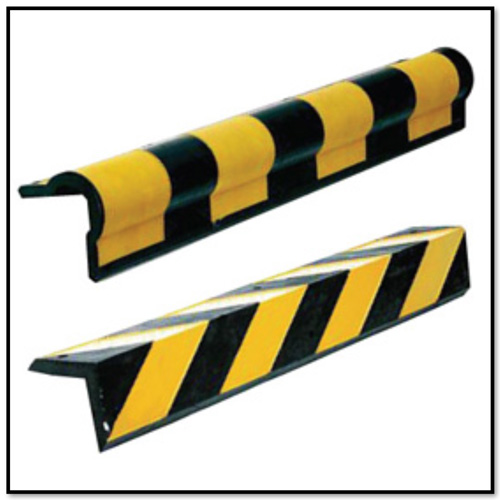 Rubber corner guard, heavy duty, 31″L is made of rubber for long lasting durability and dependability. Units provide high impact resistance for enhanced structural integrity in high-traffic areas. Molded reflective tape improves driver visibility for safety and security. Maintenance free construction provides chemical, weather and corrosion resistance. Includes mounting holes for unit stability. Permanent installation hardware sold separately. Type is Indoor/Outdoor Model. Corner guard regular and heavy duty are made of rubber making these products long lasting and very durable. Our Corner Guards help provide high impact resistance for enhanced structural integrity in high-traffic areas. Molded reflective tape improves driver visibility for safety and security. Very easy to maintained and very resistant to chemical, weather and corrosion. Great for Indoor and Outdoor. Available in Heavy Duty molded type. Comes in package of 1. Color finish is Black and Yellow featuring black and yellow stripes to increase visibility. Corner Guards are designed to protect corners from damage. Extremely versatile design for protection in warehouses, offices, door frames, or any 90° corner. Permanent installation. Hardware is not included. Corner Guard product has 6 mounting holes, it is recommended to use a screw with a plastic anchor of at least 3 cm long
Rubber Corner Guards Manufacturer
At Unimat Traffic, we offer the best prices since we are Manufacturer and have different packages for
Distributors and Suppliers, you can single rubber guards unit or Wholesale.
We have clients all over the world, we are fully stocked and can ship right away.
Our customer service representatives are always ready to assist you and can answer any technical and specific questions.
Our prices are the lowest of the market.
Call us today for a quote, we offer discount for large quantities and special pricing for distributors.