Here at Unimat we have 4 different models of floor cable protection caps that will suit your needs, whether you need to pass only 2 cables and wait only for cars and small vehicles, or require more or greater thickness of wagon in a place where the passage of heavy trucks is expected, all these options are contemplated within our variety of protective caps of cable.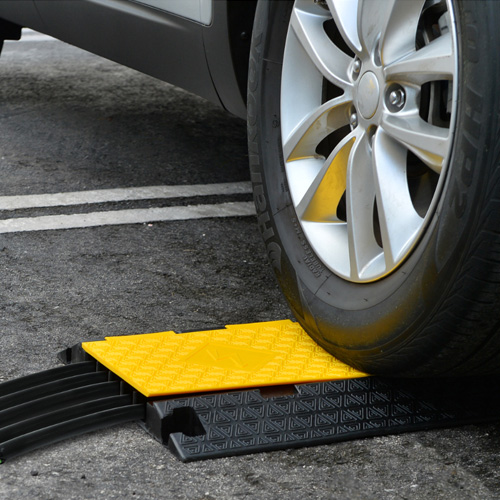 There is no better option anywhere, the quality we have is totally premium; however our prices are direct from the factory, so it is here that you will find the lowest prices in the market and you will get products of the highest quality so that the equipment in your construction is first class.
So many benefits on this great product:
High performance cord cover
"Dog-bone" safety connectors are engineered to release before breaking under load or during disassembly
Extra wide channels available up to 5 inches in diameter
Heavy duty polyurethane construction protects cables and cords from up to 48,000 lbs. per axle of vehicular traffic
Built to last; will provide dozens of years of quality cable protection when properly used
Low profile design for easy vehicle pass-over
Dog bone connectors allow you to customize your own modular set-up
Easy set-up and take down
| SKU | Description | Length | Height | Width | Weight |
| --- | --- | --- | --- | --- | --- |
| CC02-9001 | 5 Channel Cable Ramp – Rubber Cable Protector for 1.5" diameter cables | 25.5″ | 2″ | 19.75″ | 31.00 |
We are manufacturers and distributors of road solutions of great utility and with a high profile within the industry thanks to our historical results, we have had the opportunity to position ourselves as the leaders of the industry designing, manufacturing and distributing a large number of security products that make the roads a safer place; however not everything is focused on taking care of the road, we also have to take care of other elements like the infrastructure of a place, and that is why we manufacture the protective caps of cable, so that the wiring is also safe where necessary.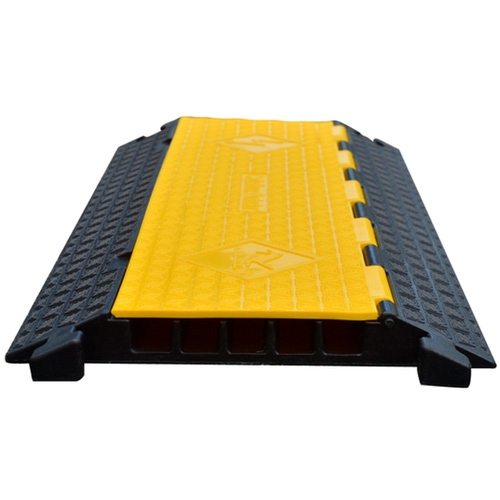 Our high load, high capacity cord protector designed to manage and protect cables in tough situations. Perfect for continuous heavy outdoor cable protection in parking lots, jobsites, construction areas, industrial sites and more, the Yellow Jacket offers up to 5 cable channels, and end caps, turns and 4-way crosses allow you to create your own set-up that can span in any direction and length you desire.
Cable covers protects hoses, cables and wires from pedestrian and vehicle traffic. With our high quality polyurethane material, these products offer superior characteristics and keep your wires organized and protected.
Cable Protector Manufacturer
Unimat is a Manufacturer company therefore we can offer specials for
Distributors and Suppliers, you can single units or Wholesale.
We are fully stocked and can ship right away.
The customer service department is always ready to assist you and can answer any technical and specific questions.
Our prices are the lowest of the market with clients are located around the world.
Whenever we design a product, we measure the use of materials such as rubber, PVC, polycarbonate, etc., so that by agreeing to achieve the resistance we want to achieve; thanks to this perfect mix of raw materials, we achieve the finishing of the highest quality products that resist, not only the conditions for which they were created, but also sunlight, humidity, excessive vehicle traffic, and other difficult atmospheric conditions without compromising their integrity, leaving only the need to clean with a little water so that, in this case, the protective cable stops will look perfect again.
If you are interested in our cable protection caps or any other of our products we invite you to leave your data in the form of contact of the page or to communicate to the telephone that is shown in the page so that our Advisors can show you this and others products, we have a large line of stops, protectors, signs and even rugs and specialized floors. Let us help you make the best call right now and also ask about our promotions.