Use cable covers to protect multiple cables from pedestrian, car and truck traffic in parking lots, television sets, commercial areas and any other place where cable protection is needed.
Cable covers have built in connectors that allow units to be ganged together for modular expansion if needed. We are a company with lots of experience in the market we specialize in Heavy Duty Rubber Cable Protector Ramp, we are Unimat, we are Heavy Duty Rubber Cable Protector Ramp manufacturers, we are the best Cable protector ramp suppliers, we offer the best prices and we can ship right away! At our company we have the best service and the best Cable protector ramp for sale.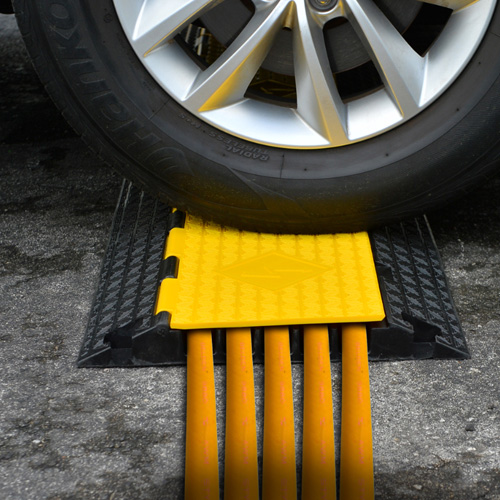 These heavy duty cable covers has large channels for the protection of a large number of wires. The hinged lid allows for top loading of cables for convenience. Made of polyurethane, the cable covers are suitable for use outdoors and indoors in most weather conditions.
| SKU | Description | Length | Height | Width | Weight |
| --- | --- | --- | --- | --- | --- |
| CC02-9001 | 5 Channel Cable Ramp – Rubber Cable Protector for 1.5" diameter cables | 25.5″ | 2″ | 19.75″ | 31.00 |
We sell and distribute to the complete nation, we sell the most Cable protector ramp in South Florid, North Florida, South Carolina and many other states.
We have a large variety of cable ramps ready to go since we are fully stocked, we have Cable protector ramp for Georgia for Texas and any other city where cable ramps might be needed.
We are manufactures and we offer many types of cable protector ramps.
The black base and yellow lid is highly visible to highlight the spots where cables are being covered so cars can notice it and slow down the speed.
Cable Protectors Manufacturer
We have different packages and special here at Unimat Industries since we are Manufacturer therefore we can offer specials for
Distributors and Suppliers, you can single units or Wholesale.
Our customer service representatives are always ready to assist you and can answer any technical and specific questions.
Our prices are the lowest of the market
Our clients are located around the world, we are fully stocked and can ship right away.
Features:
Excellent to be used in areas with high pedestrian traffic, hand trucks and carts.
Ideal to hold multiple cables 4″W x 1″H channel.
Able to support lightweight vehicle traffic weighing up to 2,000 lbs per axle.
Lightweight polyurethane construction weighs just 5.2 lbs.
Great visible safety yellow color.
Perfect cable protection for warehouses, indoor work sites, garages, offices and more!
Prevents accidental tripping over wires in high traffic areas.
Cable ramp made with high quality industrial and heavy duty molded polyurethane.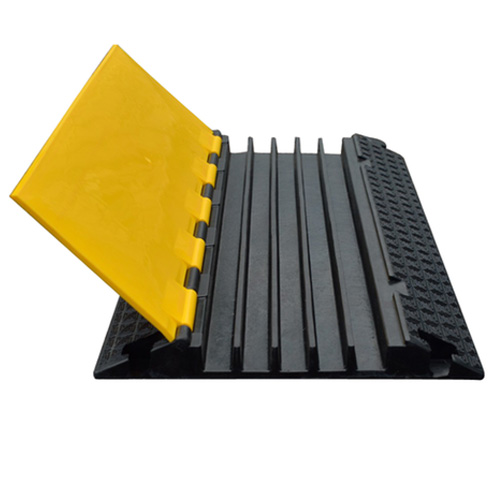 We are manufacturers and distributors of road solutions of great utility and with a high profile within the industry thanks to our historical results, we have had the opportunity to position ourselves as the leaders of the industry designing, manufacturing and distributing a large number of security products that make the roads a safer place; however not everything is focused on taking care of the road, we also have to take care of other elements like the infrastructure of a place, and that is why we manufacture the protective caps of cable, so that the wiring is also safe where necessary.
If you are interested in our cable protection caps or any other of our products we invite you to leave your data in the form of contact of the page or to communicate to the telephone that is shown in the page so that our Advisors can show you this and others products, we have a large line of stops, protectors, signs and even rugs and specialized floors. Let us help you make the best call right now and also ask about our promotions.