What is a cable ramp? This is a question that our customers always have and we are so happy to explain in this article everything related to this great producto and its benefits.
Use cable covers to protect multiple cables from pedestrian, car and truck traffic in parking lots, television sets, commercial areas and any other place where cable protection is needed. Cable covers have built in connectors that allow units to be ganged together for modular expansion if needed.
Our high load, high capacity cord protector designed to manage and protect cables in tough situations. Perfect for continuous heavy outdoor cable protection in parking lots, jobsites, construction areas, industrial sites and more, the Yellow Jacket offers up to 5 cable channels, and end caps, turns and 4-way crosses allow you to create your own set-up that can span in any direction and length you desire.
It is very important to be 100% clear on the folowing question: How to Choose the Right Cable Ramps?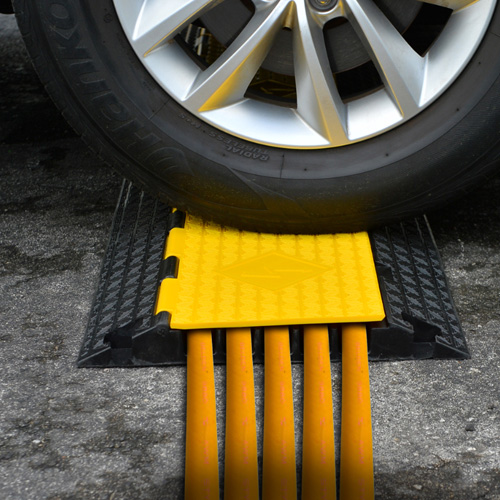 These heavy cable protectors not only are suitable for constructions areas or industries they also can be used in parking lots, warehouses, offices, houses, and more, they come in different reflective colors for you to choose from, they can also protect a hose if you work as a pool cleaner so you can work without worrying if someone has an accident or steps on your hoses. They also can protect pipes, in case they cannot go under the ground.
Here are some of the great advantages when using a cable ramp.
| SKU | Description | Length | Height | Width | Weight |
| --- | --- | --- | --- | --- | --- |
| CC02-9001 | 5 Channel Cable Ramp – Rubber Cable Protector for 1.5" diameter cables | 25.5″ | 2″ | 19.75″ | 31.00 |
Excellent to be used in areas with high pedestrian traffic, hand trucks and carts.

Ideal to hold multiple cables 4″W x 1″H channel.

Able to support lightweight vehicle traffic weighing up to 2,000 lbs per axle.

Lightweight polyurethane construction weighs just 5.2 lbs.

Great visible safety yellow color.

Perfect cable protection for warehouses, indoor work sites, garages, offices and more!

Prevents accidental tripping over wires in high traffic areas.

Cable ramp

 made with high quality industrial and heavy duty molded polyurethane.
Also these benefits can be included in the list of Cable Ramps uses:
High performance cord cover

"Dog-bone" safety connectors are engineered to release before breaking under load or during disassembly

Extra wide channels available up to 5 inches in diameter

Heavy duty polyurethane construction protects cables and cords from up to 48,000 lbs. per axle of vehicular traffic

Built to last; will provide dozens of years of quality cable protection when properly used

Low profile design for easy vehicle pass-over

Dog bone connectors allow you to customize your own modular set-up

Easy set-up and take down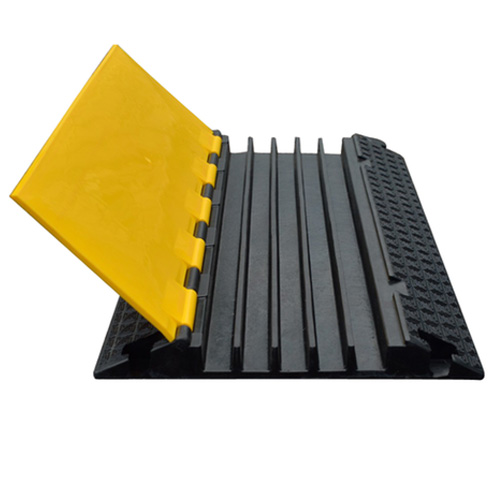 These heavy duty cable covers has large channels for the protection of a large number of wires. The hinged lid allows for top loading of cables for convenience. Made of polyurethane, the cable covers are suitable for use outdoors and indoors in most weather conditions.
Whenever we design a product, we measure the use of materials such as rubber, PVC, polycarbonate, etc., so that by agreeing to achieve the resistance we want to achieve; thanks to this perfect mix of raw materials, we achieve the finishing of the highest quality products that resist, not only the conditions for which they were created, but also sunlight, humidity, excessive vehicle traffic, and other difficult atmospheric conditions without compromising their integrity, leaving only the need to clean with a little water so that, in this case, the protective cable stops will look perfect again.
For more custom information on your particular need of project and also if you are interested in our cable protection ramps or any other of our products we invite you to leave your data in the form of contact of the page or to communicate to the telephone that is shown in the page so that our Advisors can show you this and others products, we have a large line of stops, protectors, signs and even rugs and specialized floors. Let us help you make the best call right now and also ask about our promotions.