Unimat Recycled Rubber Parking blocks are made from very durable material, we as manufacture make sure the fabrication process has top quality control check and standards. Our recycled rubber parking blocks are satisfaction guarantee, we also offer the lowest prices in the market, with Unimat products you will have durability and will pay a low cost.
An excellent way to keep a parking lot safe, organized, and looking great is with the use of rubber curb stops. These curb stops work to ensure vehicles utilizing the lot do not roll past certain points, help drivers know where to park their vehicles, and provide for a uniform and organized look to the overall appearance of the property. Not only do they organize and keep the lot safe, but they are also much easier to install and are much more cost-effective than the older, heavier cement stops of the past.
Unimat recycled rubber parking blocks are sturdy and very durable, they are also very easily to be carried and installed. Its weight is very light just a little be over 30 pounds. Recycled Rubber parking blocks are the best option for your parking establishment, residential building or company. Recycled rubber parking blocks have many benefits such as the ones listed below. Remember you offer top quality at the lowest prices.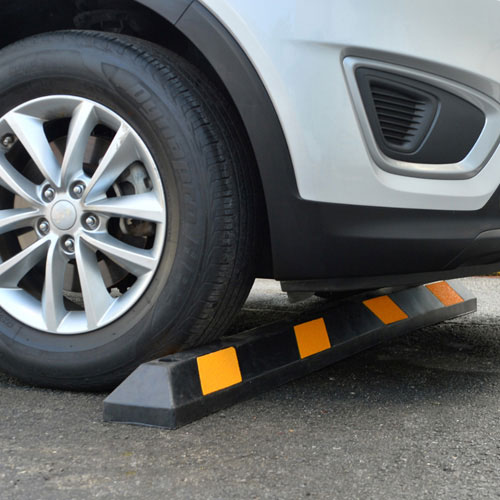 | SKU | Description | Length | Height | Width | Weight |
| --- | --- | --- | --- | --- | --- |
| UPB01-3004-8 | 6 Foot Parking Block | 6″ | 4″ | 5-7/8″ | 34.00 |
Recycled Rubber Parking Blocks Manufacturer
Being a Manufacturer company can give you the advantage of offering specials for
Distributors and Suppliers, you can single units or Wholesale.
The customer service department is always ready to assist you and can answer any technical and specific questions.
Unimat prices are the lowest of the market with clients are located around the world.
We are fully stocked and can ship right away.
Our Parking Block has the top quality and the best benefits such as:
Made of 80% virgin rubber and 20% recycled rubber, which makes it more resistant.
Heavy duty reflective stripes to improve night time visibility.
Our recycled rubber parking block is weather resistant with great durability.
Impervious to sunlight or road salt.
Conforms to uneven surfaces.
Low profile curbs will not damage vehicles with low front ends.
High quality perfect for any parking areas.
Designed to endure weather and vehicle contact.
It has 4 mounting holes for permanent installation on asphalt or concrete ground.
Includes Hardware for Mounting.
Material: Rubber.
Length: 6 ft.
Quick installation, rebar spikes sold separately.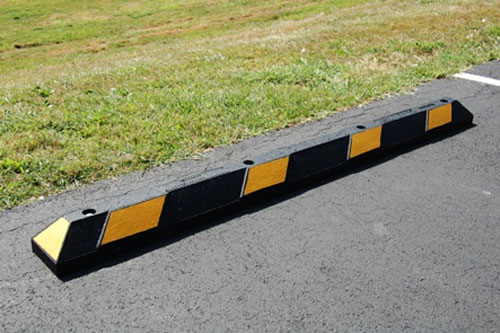 Our Best Value in a Rubber Parking Block the Economy Rubber Parking Block. Weighing 26 lbs each they are sturdy and durable but easily carried and installed by one person. These Economy Rubber Wheel Stops are made from Durable Masticated Rubber Compound consisting of approximately 65% pre-consumer recycled rubber and 35% post-consumer recycled rubber. This parking block will flex slightly to lie flat on uneven or cracked surfaces. Economy Rubber Parking Blocks have 4 counter-sunk mounting holes per block and all installation hardware is included.
Recycled Rubber Parking Blocks feature molded reflective tape for high visibility and safety. Recycled Rubber Parking blocks are made with corrosion resistant recycled rubber for long lasting durability, they are easy to install, and we offer top warranty = 5 Years. Give us a call right away and we will be more than happy to assist you with your request, we can ship right away, our products are in stock ready to go!