Speed humps are the most effective tool to provide safety on the roads, the come in different wide ranges and speed humps are modular, we have them in 2 feet and 3 feet wide, this is the perfect measurement to have vehicle slowdown in important areas like schools, parks, and much more. Vehicles can pass over them and can safely maintain speeds of 15–20 miles per hour. They are better suited for local roads and lanes where low speeds are preferred but full stops are not necessary or convenient. Being their main benefit that speed humps encourage low speeds without forcing the driver to come to a full stop. Speed humps are legal for authorized use on public roads and any other area where they might be needed to increase safety. Reflective yellow stripes for high-visibility at night and in bad weather are part of its DNA creating a very high-quality product that really works for safety wherever it is installed.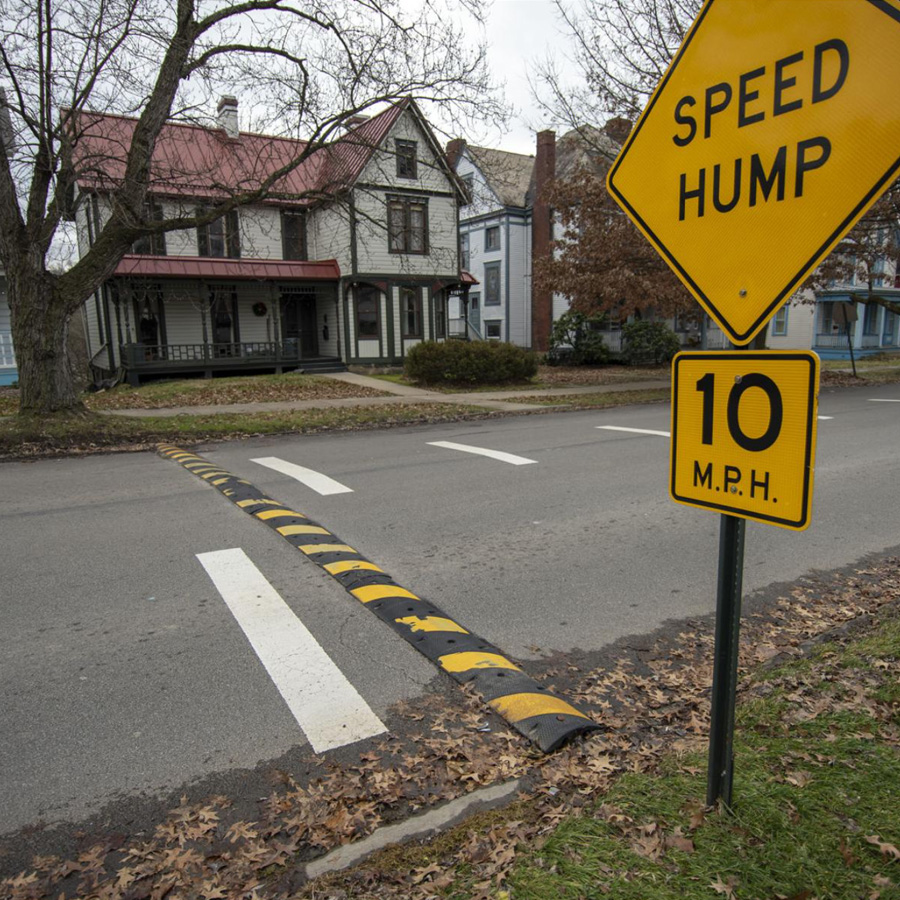 Speed humps are intended to reduce driver speeds down to 10–15 miles per hour over the hump. They should be arranged to avoid disruption of cycling lanes and on-street parking. Our great quality speed humps have been proven to reduce speed and make neighborhoods safer.

Our rubber speed humps are made to slow down traffic in areas like parks, school zones, hospitals, and retirement communities. Their modular units lock together, creating a uniform surface fit to the road's width.
There's no better way to keep the road safe than allowing speed humps do their work by keeping the vehicles speed slow and safe for pedestrians to cross. Call now to our Sales Department and you'll be happily attended by one of our Representatives.
Recycled Rubber Speed Hump
| SKU | Description | Length | Height | Width | Weight |
| --- | --- | --- | --- | --- | --- |
| SH1018I | 18.75″ Speed Bump (1) 18.75″ Section with no End Caps | 18.75″ | 1.25″ | 2″ | 22.20 |
| SH1112I | 112.5″ Single Lane Speed Bump (6) 18.75″ Sections with no End Caps | 112.5″ | 1.25″ | 2″ | 133.20 |
| SH1128I | 10 Ft Single Lane Speed Bump (6) 18.75″ Sections + (2) End Caps | 128.5 | 1.25″ | 2″ | 148.80 |
| SH1225I | 225″ Double Lane Speed Bump (12) 18.75″ Sections with no End Caps | 225″ | 1.25″ | 2″ | 266.40 |
| SH1241I | 20 Ft Double Lane Speed Bump (12) 18.75″ Sections + (2) End Caps | 241″ | 1.25″ | 2″ | 282.00 |
| SH1ECAL | LEFT End Cap | 8″ | 1.25″ | 2′ | 7.80 |
| SH1ECAR | RIGHT End Cap | 8″ | 1.25″ | 2′ | 7.80 |