Now a day is no longer needed to have asphalt speed bumps to slow speeders drivers. Modern traffic calming devices are made of ultra-dense recycled rubber or recycled plastic, therefore they're easy for the non-professional to install and much more environmentally friendly. Our speed bumps and humps are cost effective, attractive, and won't break down, many counties and communities are today using these products to protect pedestrian and to make road safe.
Benefits of Speed Bumps and Humps:
Speed Bumps
For 5-15 MPH –> Reduce to 2-5 MPH.
Parking lots and Driveways.
Various Lengths: 6', 12', 18'. 19'.
Speed Humps
For 15-30 MPH –> Reduce to 5-10 MPH.
Residential Streets and Campuses.
Adjustable Lengths.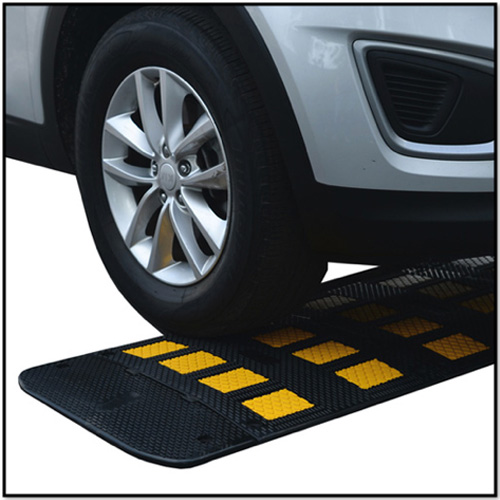 | SKU | Description | Length | Height | Width | Weight |
| --- | --- | --- | --- | --- | --- |
| SH1018I | 18.75″ Speed Bump (1) 18.75″ Section with no End Caps | 18.75″ | 1.25″ | 2″ | 22.20 |
| SH1112I | 112.5″ Single Lane Speed Bump (6) 18.75″ Sections with no End Caps | 112.5″ | 1.25″ | 2″ | 133.20 |
| SH1128I | 10 Ft Single Lane Speed Bump (6) 18.75″ Sections + (2) End Caps | 128.5 | 1.25″ | 2″ | 148.80 |
| SH1225I | 225″ Double Lane Speed Bump (12) 18.75″ Sections with no End Caps | 225″ | 1.25″ | 2″ | 266.40 |
| SH1241I | 20 Ft Double Lane Speed Bump (12) 18.75″ Sections + (2) End Caps | 241″ | 1.25″ | 2″ | 282.00 |
| SH1ECAL | LEFT End Cap | 8″ | 1.25″ | 2′ | 7.80 |
| SH1ECAR | RIGHT End Cap | 8″ | 1.25″ | 2′ | 7.80 |
Thanks to advancements in traffic devices the now a day's speed bumps and humps are way more resistant and have different features that make them ultra-modern and able to provide more benefits for drivers and pedestrians, the result outlasts asphalt and offers these great advantages:
Less Noise — Rubber and plastic minimize sound.
Improved Safety and Effectiveness — No cracked surfaces or exposed hardware.
No Painting — UV-stabilized color permanently molded into the material.
Simple Install/Removal — One person, no equipment needed.
Leadership in Energy and Environmental Design (LEED).
Safe people around your facility residential or commercial and be Proactive!
Speed reduction is essential for safety and helps preserve property values also it is important to provide safety in public areas and communities, encouraging responsible driving and a better world.
Speed Bumps and Humps are perfectly used for many applications, such as:
Emergency Vehicles and Bus Routes.
Schools parking areas and surroundings.
Accommodating Cyclists and People with Disabilities.
Hospitals parking spots.
Public buildings.
Private communities.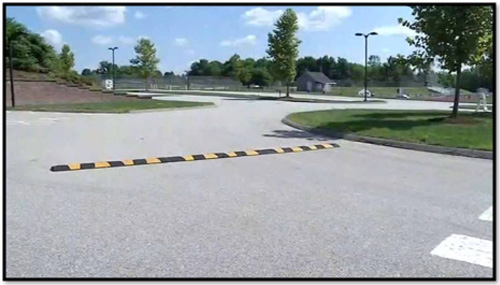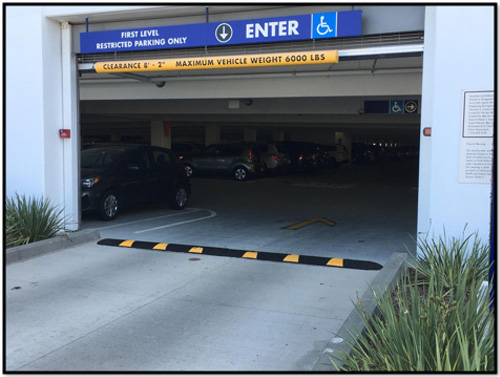 Speed Bumps Manufacturer
We have a very big advantage with all our competitors since we are Manufacturer and have different packages for Distributors and Suppliers, you can single units or Wholesale.
Unimat Traffic customer service representatives are always ready to assist you and can answer any technical and specific questions.
Our prices are the best of the market.
We have clients all over the world, we are fully stocked and can ship right away.
There are many benefits about using speed bumps to make your roads a safer place, they are Ideal to be used in areas like: parking lots, schools, public playgrounds, hospitals zones and residential & industrial areas. Also Very easy to assemble, installation can be placed on concrete or asphalt. Another great quality is that speed bumps are perfect for any type of weather conditions, this product is very resistant, will not crack or break. We have the best prices and mounting screw are included in the price and in addition we offer great 5 years warranty. Call us now for a free estimate our main priority is customer service. Unimat Traffic offers the best prices on the market, we have all of our products in stock and they are ready to be shipped right away, please give us a call and one of our sales representative will be more than happy to assist you!