Unimat 6 foot Economy Rubber Speed Bumps are constructed with high quality.
If you are asking if speed bumps effective? These 6 foot economy rubber speed bumps are designed to reduce and control the speed of vehicles in parking lots, schools, parking areas and roadways. Our speed bumps include high visibility yellow stripes which are molded into the speed bump for durability and embedded glass reflectors for increased visibility.
There are many question when it comes to this type of product:
Do speed bumps reduce accidents? Unimat 6 foot speed bumps are used to slow cars down to 2-5 mph, making parking lots safer for pedestrians, cyclists, and drivers, they are very easy to install.
This is the best product in the market to reduce accidents.
Also there are other many questions like:
What is the maximum height of a speed bump?

Are speed bumps effective?

Do speed bumps reduce accidents?

What is the maximum height of a speed bump?

Is it better to go over speed bumps fast or slow?

Do speed bumps damage cars?

Do speed bumps affect alignment?
What speed should you go over speed bumps?
What happens if you hit a speed bump too hard?
In this great article about speed bumps for sale near me you will be able to find all these answers and more:
6' Economy Recycled Rubber Heavy Duty Speed Bump
| SKU | Description | Length | Height | Width | Weight |
| --- | --- | --- | --- | --- | --- |
| SB206FT | 6 Ft Speed Bump (1) 6′ Section With no End Caps | 72″ | 2″ | 12″ | 48.40 |
| SB207FT | 7 Ft Speed Bump (1) 6′ Section + (2) End Caps | 86″ | 2″ | 12″ | 55.40 |
| SB213FT | Single Lane 12 Ft Speed Bump (2) 6′ Section With no End Caps | 144″ | 2″ | 12″ | 96.80 |
| SB219FT | Double lane 19 Ft Speed Bump (3) 6′ Section + (2) End Caps | 230″ | 2″ | 12″ | 152.20 |
| SB225FT | 25 Ft Speed Bump (4) 6′ Section + (2) End Caps | 302″ | 2″ | 12″ | 200.60 |
| SB2ECAP | End cap | 7′ | 2′ | 12′ | 3.50 |
Our heavy-duty economy speed bump measurement for each middle section length is 72″ and weighs around 48 lbs. These middle sections can be joined with end caps to form a complete speed bump. They are easily cut to custom lengths to fit any area, also they are weather and chemical resistant. There are many benefits from this great product, some of them are:
Made with high quality EPDM rubber compound, 25% recycled rubber content.

Free hardware included for asphalt or concrete installation.

Build your own system with 6 ft. sections and 7″ end caps.

Molded-in cat eye reflectors and bright yellow EPDM rubber offer hight visibility.

Slows vehicles to 5 MPH.

Speed bump system comes in 6ft., 7 ft., 12 ft., 19 ft., and 25 ft. sizes.

Easy to install, easy removal for storage or relocation.

It can be used as a 2-channel cable protector and as a speed bump.

ideal for residential, commercial, industrial areas, parks, sporting venues, school zones, etc.

Great quality durable rubber construction with yellow safety strips that will not fade.

Non-skid surface.

Durable bright yellow embedded EPDM rubber strip.

Available with end cap parts (sold individually) very easy to attach.

Mounting Holes (4) x 1-1/2, Countersink, 1/2 Mount Hole.
Our rubber speed humps are made to slow down traffic in areas like parks, school zones, hospitals, and retirement communities. Their modular units lock together, creating a uniform surface fit to the road's width.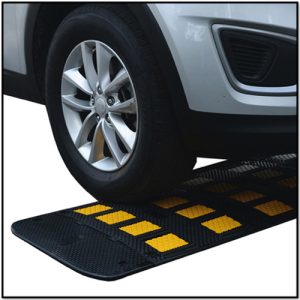 There's no better way to keep the road safe than allowing speed humps do their work by keeping the vehicles speed slow and safe for pedestrians to cross. Call now to our Sales Department and you'll be happily attended by one of our Representatives.
Speed humps are the most effective tool to provide safety on the roads and driveways, the come in different wide ranges and speed humps are modular, we have them in 2 feet and 3 feet wide, this is the perfect measurement to have vehicle slowdown in important areas like schools, parks, and much more. Vehicles can pass over them and can safely maintain speeds of 15–20 miles per hour. They are better suited for local roads and lanes where low speeds are preferred but full stops are not necessary or convenient. Being their main benefit that speed humps encourage low speeds without forcing the driver to come to a full stop. Speed humps are legal for authorized use on public roads and any other area where they might be needed to increase safety. Reflective yellow stripes for high-visibility at night and in bad weather are part of its DNA creating a very high-quality product that really works for safety wherever it is installed.
Finally, speed bumps for sale near me:
There are many benefits about using speed bumps to make your roads a safer place, they are Ideal to be used in areas like: parking lots, schools, public playgrounds, hospitals zones and residential & industrial areas. Also Very easy to assemble, installation can be placed on concrete or asphalt. Another great quality is that speed bumps are perfect for any type of weather conditions, this product is very resistant, will not crack or break. We have the best prices and mounting screw are included in the price and in addition we offer great 5 years warranty. Call us now for a free estimate our main priority is customer service.